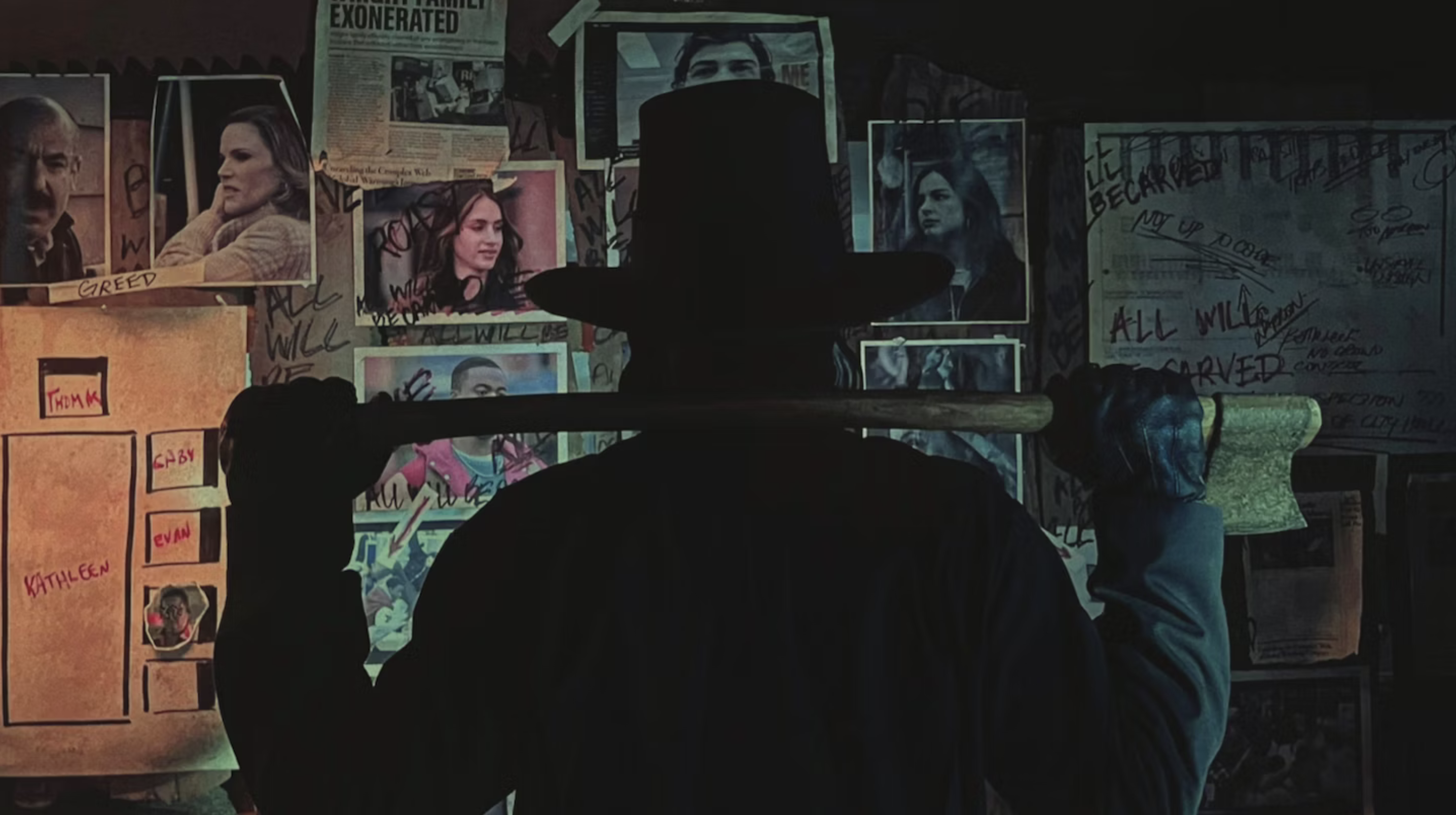 Giving Thanks to Horror: 13 Thanksgiving Horror Films to Feast Your Eyes On
Thanksgiving is a time for gratitude, togetherness, and feasting on delicious food. But what if we told you that this holiday season can also be a perfect time for horror enthusiasts to indulge in some spine-chilling, Thanksgiving-themed horror films? In this blog post, we're going to explore 13 "Giving Thanks to Horror" films that will add a touch of terror to your Thanksgiving festivities.
"Thanksgiving" (TBA) – Directed by Eli Roth
Eli Roth's upcoming film "Thanksgiving" is eagerly anticipated by horror fans and promises to deliver a fresh dose of holiday terror. While details about the film are limited, it's expected to be a fitting addition to the Thanksgiving horror subgenre. After a Black Friday riot ends in tragedy, a mysterious Thanksgiving-inspired killer terrorizes Plymouth, Massachusetts – the birthplace of the holiday. Picking off residents one by one, what begins as random revenge killings are soon revealed to be part of a larger, sinister holiday plan. Will the town uncover the killer and survive the holidays…or become guests at his twisted holiday dinner table?
"ThanksKilling 3" (2012)
Starting off with a touch of absurdity, "ThanksKilling" is a horror-comedy that revolves around a homicidal turkey with a penchant for killing college students. This low-budget cult classic combines humor, gore, and a killer turkey in a perfect blend for a Thanksgiving-themed horror film. Fowl-mouthed villain Turkie carves through the likes of a rapping grandma, a mindless puppet, a wig-wearing inventor, a bisexual space worm, and their equally ridiculous friends on his quest to recover the last copy of "ThanksKilling 2".
"Blood Rage" (1987)
In this slasher film, Thanksgiving takes a dark turn when a young boy named Todd witnesses his twin brother, Terry, commit a gruesome murder. Todd is wrongfully accused and institutionalized, while Terry grows up to become a deranged killer. Years later, Todd escapes and seeks revenge during a Thanksgiving family reunion.
"Kristy" (2014)
Though not centered on Thanksgiving, "Kristy" is a tense thriller that begins with a college student staying on campus during the holiday. She soon realizes that she is being hunted by a group of masked assailants. As the suspense builds, the film reminds us that not everyone is home with their families during Thanksgiving.
"Home Sweet Home" (1981)
This home invasion slasher is set on Thanksgiving Day and features a killer who terrorizes a suburban family celebrating the holiday. The film is a reminder that even the most joyful occasions can turn into a nightmarish ordeal.
"Pilgrim" (2019)
This installment from Hulu's "Into the Dark" anthology series is a twisted take on Thanksgiving. A seemingly idyllic suburban family invites actors portraying pilgrims to join their Thanksgiving festivities, only to discover that the newcomers have much darker intentions. "Pilgrim" explores the tension between historical ideals and modern family dynamics.
"The Oath" (2018)
In "The Oath," the U.S. government has mandated that citizens sign an "oath of loyalty" to the President on Thanksgiving Day. Chaos and dark comedy ensue as a family navigates the tense political climate during their holiday gathering. This film is a satirical commentary on the divisiveness of modern American politics.
"Alien Abduction: Incident in Lake County" (1998)
While not directly tied to Thanksgiving, this found footage TV movie presents a chilling portrayal of a family's Thanksgiving celebration disrupted by mysterious occurrences. As their festivities turn sinister, they struggle to survive the unexplained phenomena that surround them.
"Thanksgiving" (2007) – From "Grindhouse"

Remember the fake movie teasers in between Quentin Tarantino and double feature, Eli Roth directs a fake trailer for "Thanksgiving." This trailer is a humorous and over-the-top homage to the slasher genre, complete with gruesome kills and a killer turkey.
"The Last Thanksgiving" (2020)
In this Thanksgiving horror-comedy, a group of misfit employees working at a fast-food restaurant must survive a holiday shift while an ancient evil is unleashed. It's a gory and satirical take on the retail and food industry during the holiday season.
"Flesh & Blood" (2017)
In this thriller, a group of friends gathers for Thanksgiving in a remote cabin. But their celebration takes a dark turn as they become hunted by a masked killer. The film explores themes of friendship and trust while delivering suspenseful moments.
"Bastard" (2015)
Set during Thanksgiving weekend, "Bastard" follows a group of friends on a road trip to the mountains. Their vacation takes a horrifying turn when they encounter a family of sadistic killers. The film provides a brutal and chilling take on the holiday season.
"Feral" (2017)
While not explicitly a Thanksgiving film, "Feral" takes place during a camping trip over the Thanksgiving weekend. As the friends in the film face a deadly outbreak, they must battle not only the infected but also their own survival instincts.
Thanksgiving is a time for giving thanks and spending quality moments with loved ones. However, for horror fans looking to add a touch of terror to their holiday season, these 13 Thanksgiving-themed horror films offer an array of gruesome, suspenseful, and sometimes darkly humorous experiences. So, why not take a break from the traditional holiday fare and give thanks to horror this Thanksgiving? Just remember to keep the lights on and the turkey carver away from any masked maniacs. Happy haunting!
#ThanksgivingHorror, #HorrorMovies, #HorrorFilm, #HolidayHorror, #ThanksgivingTerror, #HorrorFan, #ScaryMovies, #HorrorFlicks, #ThanksgivingChills, #ThanksgivingScares, #HorrorMarathon, #ThanksgivingEntertainment, #TurkeyDayThrills, #SpookySeason, #GivingThanksToHorror, #CreepyCinema, #HolidayChills, #HorrorClassics, #ThanksgivingTraditions, #HorrorBlog