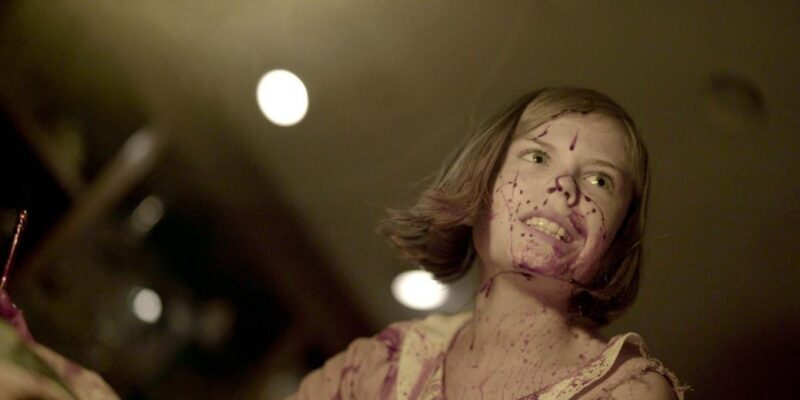 Local Atlanta Artists Shine: Creative Loafing Digging the Buried Alive Film Festival

Following excerpt is from an article by Curt Holman that originally appeared on Creative Loafing in 2019.
---
If you made a Venn diagram for local cult movie aficionados, special-effects artists, film historians, heavy metal musicians, gonzo animators, burlesque performers, haunted house regulars, and Goths, the Buried Alive Film Festival might be at its center.
Held this year from November 13-17 at 7 Stages, the 14th annual independent film festival gives Atlanta's loose-knit horror community a long weekend to hang out and cheer at zombies, werewolves, Satanists, and geysering gore effects.
Two films with local connections couldn't feel more different but convey the breadth of the festival. The 16-minute short, "Budfoot," featuring effects by Atlanta's Shane Morton and his Silver Scream FX Lab, embraces trippy, Adult Swim-style humor about an underground toy designer bedeviled by his latest, cannabis-based action figure. Where "Budfoot" is edgy and outlandish, Mark of the Beast: The Legacy of the Universal Werewolf is lovingly respectful of classic film history. Local documentarian Daniel Griffith offers a snappily paced overview of classic werewolf movies, with an emphasis on shaggy transformation effects, from the dawn of cinema through An American Werewolf in London.
The communal aspect will be heightened at a couple of events that blend screenings with live performance. On November 15, Atlanta psychedelic jazz group Samadha will provide a live score for "The Call of Cthulhu," Andrew Leman's 2005 adaptation of the eponymous H.P. Lovecraft story in the style of a 1920s silent movie. The November 16 screening of 1986's The Toxic Avenger will be preceded by a performance, inspired by the cult superhero film, from Blast-Off Burlesque.
Other local features include one of the first screenings of Those Who Deserve to Die, a thriller from Atlanta filmmaker Bret Wood inspired by Thomas De Quincey's Confessions of an Opium Eater. Local feature "Hellbound," shot by Ben Winston on black and white 16mm film, sends a pair of bikers on a nightmarish journey into the wilderness.
The festival's multiple shorts programs include local films such as Josh Gould's "Meat Wagon," Tony Reames' "Playtime's Over," Stacey Palmer's "Toothache," Ashley Young's "Ouija," and Anca Vlasan's animated "Lizard Queen." And the fourth annual Sinema Challenge screens results from a competition with Atlanta filmmakers given 13 days to film a short based on a horror genre and subject chosen randomly. Expect any of the Buried Alive Festival's screenings to share a creepshow camaraderie.
Screen Time is a monthly column about film and cinematic narratives, from the big screen to streaming services.